August 2023
OVERVIEW
The Federal Reserve recently mentioned that U.S. consumer borrowing slowed to a more than two-year low in May 2023.
In May, consumer credit increased at a seasonally-adjusted annual rate of 1.8%, the smallest monthly gain in consumer credit since November 2020.
Revolving credit (credit cards) increased at an annual rate of 8.2%.
Non-revolving credit (auto, student loans) decreased at an annual rate of 0.4% – a decrease for the first time since April 2020.
This seems to be in line with ScoreSense's year-over-year (Q2 2022 vs. Q2 2023) consumer spending habit data.
Consumers are applying for and opening less credit as interest rates continue to rise.
While credit balances remain high as consumers struggle to pay off their credit cards, we are seeing less credit usage compared to last year as consumers are tightening their spending habits.
The personal savings rate dropped over the second quarter this year which, in turn, is causing consumers to run high balances on their credit cards as they are unable to pay down debt.
Delinquent accounts are up 12% over the second quarter of 2022. While we've seen a little bit of a free fall in the economy over the past year, with rising interest rates and rising inflation, perhaps that decline is slowing, and we may end up with a soft landing rather than a crash-and-burn recession. These figures show that people who may have gotten in over their heads over the past year are finding ways to start chipping away at their debt and tightening their belts to avoid becoming more overextended.
SURVEY: BACK-TO-SCHOOL FINANCES
To better understand consumers' sentiments and spending behavior in the back-to-school season, ScoreSense conducted a survey of parents with children in grade school (kindergarten through grade 12) and parents with children in college or trade school. Key findings include inflationary prices are affecting 67% of parents with children in grade school through college in their ability to pay for their child's education, school supplies, or extracurricular activities. Nearly half of grade school parents plan on using cash and 38% plan to use credit cards to pay for back-to-school supplies and clothing. As prices for higher level education continue to increase, parents are making financial adjustments to their lives to help their children go to college or trade school, with the survey finding that 31% of parents are taking on a second job and 20% are tapping into their retirement savings.
DATA ANALYSIS
New Trade (a new account on a consumer's credit report) saw an 8% increase in Q2 2023 from Q1 2023. While an increase in New Trade is normal in Q2, 8% is low considering Q2 data from 2021 and 2022 that saw about 20% increase from the previous quarter. When comparing Q2 2023 to Q2 2022, this quarter is down by 21%.
Credit Usage was up by 8% in Q2 2023 from Q1 2023. This Q2 is still lower than Q2 2022 by 7%.
Delinquent (account overdue less than 90 days) and Card Over Limit both increased about 12% in Q2 2023 from Q2 2022.
Accounts Paid saw a 12% improvement in Q2 2023 compared to the previous quarter. However, it is still down by 18% when compared to Q2 2022.
YEAR-TO-YEAR COMPARISON
QUARTERLY COMPARISON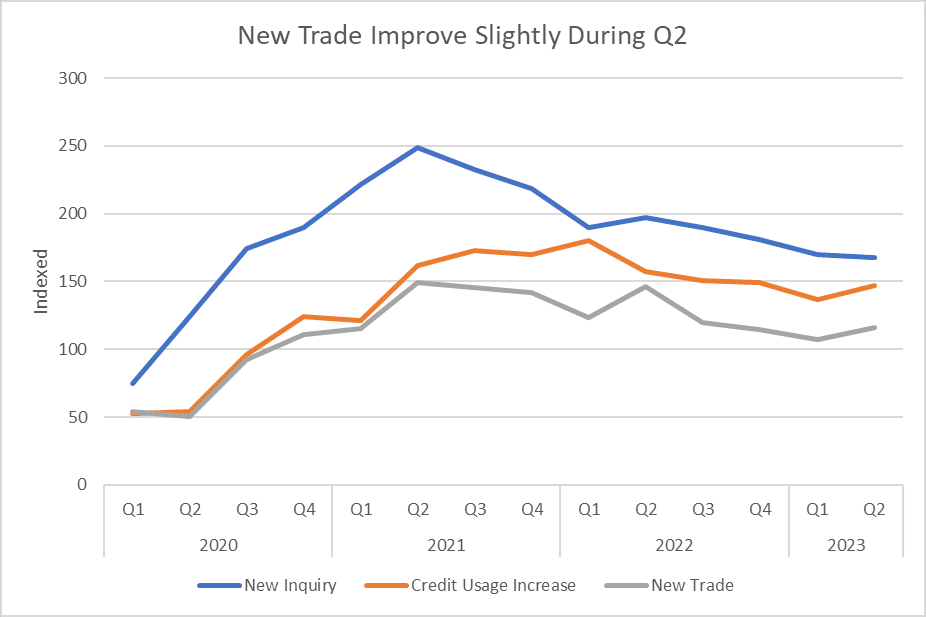 OPINION & OUTLOOK
Interest rates today stand above 5% as the Fed tries to slow the economy down and fight inflation. As interest rates climb, economists say financial conditions are headed back to being more normal. Waiting for interest rates to drop significantly to the historic lows of recent years may not be a good financial plan, as rates are unlikely to drop to those lows.
While consumers are fighting to lower debt and adjust spending for inflationary prices, talk of a recession occurring later this year is waning. The economy showed few signs of recession in the second quarter, as gross domestic product grew at a faster-than-expected pace during the period while inflation was also held in check, the Commerce Department reported on July 27. The personal consumption expenditures price index increased 2.6%, down from a 4.1% rise in the first quarter and well below the Dow Jones estimate for a gain of 3.2%. Also, the Department of Labor reported on July 27 that weekly jobless claims totaled 221,000, a decline of 7,000 and below the 235,000 estimate.
A recent report by Deloitte "still shows the economy slowing substantially in the second half of 2023. The mixed nature of incoming economic data supports this forecast. This slowdown is not, however, a recession. There's too much positive news, particularly in the labor market." Many economists agree; however, some still feel a recession is likely to occur within the next 12 months, including the Conference Board.
While abating fears of a recession is good news, the reality for many consumers is not as good.
U.S. household debt increased by 2% to $16.2 trillion in the second quarter of 2023, with credit card balances, mortgages, and other loans all seeing sizable increases, according to a report by the New York Federal Reserve Bank. The increase in borrowing – $312 billion over three months – is partially due to higher prices for homes and cars. Americans spending more on their credit cards to cover rising costs for goods and services. In a subsequent report, The New York Federal Reserve also reported that Americans' credit card debt levels have now surpassed the $1 trillion mark for the first time ever.
Additionally, Moody's reported at the end of July that "bankruptcy filings are showing a deterioration in household finances. A second-quarter increase in filings is seasonally normal, and this year's increase was modest in size. U.S. courts reported that non-business filings came in 14.9% above their year-ago level after rising 16.4% the prior quarter. On a quarter-to-quarter basis, filings rose 5.7%."
In May 2023, the Federal Reserve once again raised interest rates by one quarter basis points. Most recently, on July 26, the Fed approved the 11th interest rate increase – a quarter percentage point – since March 2022, taking the benchmark borrowing rate to its highest level since early 2001.
For consumers with credit cards, every time the Fed raises rates, interest on variable-rate cards moves higher. Those seeking new lines of credit for credit cards, student loans, personal loans, vehicle loans, and other things will face increased scrutiny and paying a higher rate.
Highter mortgage rates are projected to hurt homebuyers and those looking to refinance for years to come, according to a new report by Moody's issued in July. While the Fed's rate hikes are the main force behind high mortgages, a near-record surge in home prices and persistent low inventories were already hurting affordability even before the increases. However, a Yale University professor believes a decade-long rally in U.S. home prices could finally come to an end once the Fed stops increasing rates.
For savers, rising interest rates mean consumers can realize higher returns on savings and money market accounts.
For the remainder of the year, most economists are projecting a slower economy. Numerous dynamics will affect some consumers' budgets, including:
The resumption of Federal student loan interest comes on September 1, 2023, with payments starting in October. The White House announced that it will not report missed student loan payments to credit agencies for the first year following repayment resumption. Nevertheless, this measure will not prevent loan holders from resuming this additional household expense.
Food prices could creep up due to the war in the Ukraine with Russia putting the clamps on wheat exports.
Housing costs will keep inflation high. Inflation has declined from a 9% annual rate one year ago to 3% today, but that is still higher than the Fed's stated target of 2%. Most reports we see suggest a gradual improvement but hitting the 2% target isn't likely until 2024.
At ScoreSense, we continue to urge consumers to focus on paying down or refinancing high-interest debt and cutting spending to increase savings. Consumers also should monitor their credit scores to better understand their current credit positions, be more aware of what lenders may see, and help detect any inaccurate or incomplete information. Additionally, credit monitoring notifies you of important changes reported to your credit report, which can signal identity theft and fraud.